Machinery Risk Assessments
Every company is under a statutory duty to carry out an assessment of risks present in their workplace. Users of hazardous machinery and equipment must also comply with the 24 regulations of the Provision and Use of Work Equipment Regulations (PUWER). The regulations require risks to people's health and safety from equipment that they use at work to be prevented or controlled. European machinery safety standards are used extensively to assess compliance with the individual sections of PUWER for example BSEN 953 "General requirements for machinery guards". The recommendations within the standard are used to assess the adequacy of guarding on or around a dangerous machine.
The ISS Safety risk assessment process is a multi-layer exercise in machine risk management. The assessment makes extensive use of the primary European machine safety standards and the 24 regulations of PUWER to assess the level of risk, determine the suitability of existing risk control measures and where appropriate, make recommendations on further risk reduction hardware or procedures. The process incorporates:
Discussions with machine users
An extensive hazard analysis of the machine and its working environment
Numerical and qualitative quantification of risk using ENISO 12100-2010
An assessment of the adequacy of the existing safety control measures
An assessment of the electrical safety control system using BSEN 13849-1
An assessment of electrical safety using BSEN 60204-1
An assessment of compliance with the 24 Regulations of PUWER
Recommendations and actions
Assessment priority rating
Photographic log
A full printed report is issued after the assessment is completed, see example.
For companies with multiple sites or single complex sites we offer an additional multiple access assessment management and monitoring service. Risk assessments are stored on a company specific website created by ISS Safety. This site can host all health & safety information and documentation in a secure manner with access controlled by password protection. SharePoint uses exiting Microsoft software to capture, store, share and disseminate information to the relevant people within an organisation. The service platform is very cost effective because it uses existing Microsoft Office software. Risk assessments can be up-loaded to a SharePoint site where the assessment can be, viewed, reviewed, edited and interrogated to extract useful monitoring and planning information.
Risk Assessment Workflow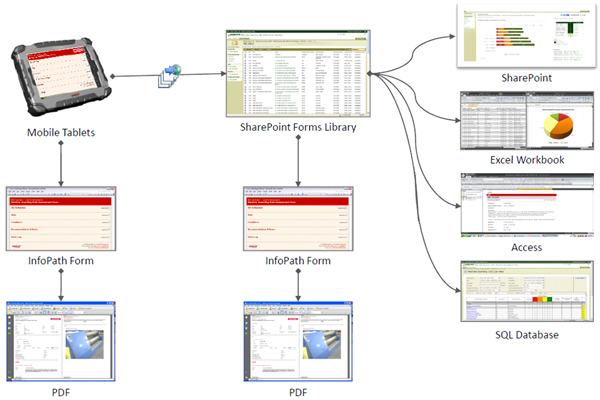 In addition the file storing capability of the SharePoint site creates a history log of the machine. A record of machine safety improvements are captured and stored for future reference.